Edwin A Banks - Soldier in the Civil War
Edwin Banks being 5′ 2″ tall with brown hair, a light complexion and hazel eyes volunteered for the civil war on January 2, 1864 in New Haven, Connecticut. He was a farmer who was originally from the town of Newtown, Connecticut. He mustered into the service on January 29, 1864 and was a private of the 2nd Connecticut Heavy Artillery unit.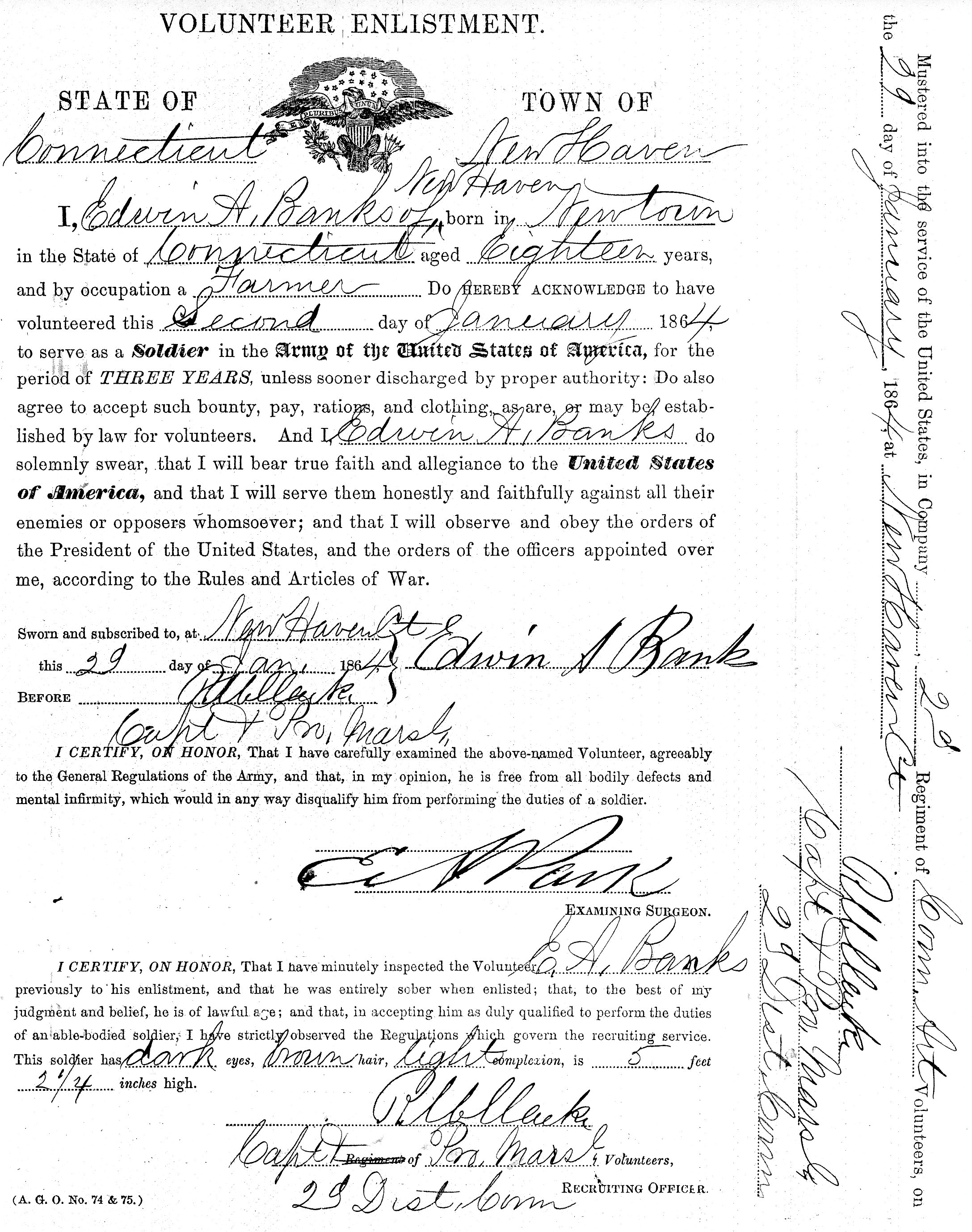 After the start of Edwin's service, he likely participated in garrison duties at Fort Worth, Fort Williams and Fort Ellsworth. These forts were south of the Potomac River and were defending Washington DC. On May 17th 1864 the 2nd Connecticut Heavy Artillary was ordered to join the Army of the Potomac in the field. Over the next month and a half the unit was in action at Spottsylvania, North Anna, Totopotomoy, Hanover, Cold Harbor, Petersburg and Jerusalem Plank Road. On July 10, the unit was moved back to Washington DC where they repulsed Early's attack on Washington.
From August through December the unit took part in Sheridan's Shenandoah Valley Campaign. They saw action at Battle of Opequan, Fisher's Hill and the Battle of Cedar Creek. They took part in the Siege of Petersburg, Dabney's Mills and Hatcher's Run. They also took part in the Appomattox Campaign and participated at the assault on and fall of Petersburg, Pursuit of Lee, Sailor's Creek and Appomattox. Edwin's unit was there during the Surrender of Lee and his army. Edwin was most likely present at all of these battles and skirmishes including the surrender of Lee and his army as he was marked present on all company muster rolls. The only time it appears he spent away from his unit was when he left to go to a hospital on May 2, 1865. He was discharged from Douglas General Hospital in Washington DC and returned to his unit on June 20, 1865. Shortly after his return, it is further noted that he was "On daily duty as worker Reg. Hd2d since June 28/65″. Edwin would have missed the corp review which happened on June 8, as he was in a hospital in Washington. Edwin was mustered out of service on August 18, 1865.
Chapter 1 - The Early Years

Chapter 2 - Life in the Civil War

Chapter 3 - Post War and a Growing Family


Appendix A : Places Edwin Lived


Tweet