Edwin A Banks - The early years
Newtown a small town in rural Connecticut just outside the city of Danbury, Edwin and his twin brother Edward were born on November 28, 1846. They were sons of Alfred Banks and Jane Ann Shepard. Newtown was a small mostly farming town, but along some of the rivers which ran through Newtown, there were several small industries. Several small hat shops were also in town.
Sometime between the time Edwin was born and 1850, the family moved to the town of Seneca. The Town of Seneca in Ontario County, New York had about 8,500 people living there. A town that size would need a tailor or two and may have kept Edwin's father busy, being that he was a tailor. At four years old, Edwin and his twin brother Edward would not have been old enough to go to school yet. They would have to wait another year or two.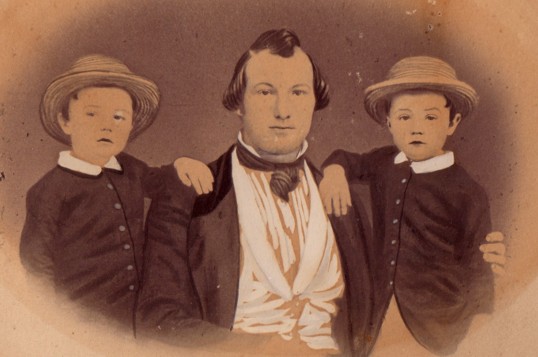 This depiction is the earliest image known to exist about my ancestor Edwin A Banks. It does not appear to be a photograph nor did it appear to me to be a painting. It must have been some other media. The twin boys Edwin and Edward are standing around their father Alfred. It is not known which boy is which. They boys appear to me to be about three or four years making the image from about 1849 -1850. Notice the buys and their father are dressed in very fine clothes. Being that their father was a tailor in Seneca, Ontario County, New York, one might wonder if Alfred made these fine clothes.
Tragedy struck the Banks family in 1852. While in Great Barrington, Massachusetts, Alfred Banks died. Alfred was only 28 years old and the twins were only five. Jane and the twins moved back to Newtown and in with Jane's parents Orrin Shepard and Sarah Gray.
While Seneca may have been a thriving larger sized town, Edwin's early teenage years started in Newtown, Fairfield County, Connecticut. This was a much smaller town. Only about 3500 people were living in Newtown at the time the 1860 Census was taken. Three generations were living in the household. Edwin's maternal grandparent Orrin and Sarah Shepard, Edwin's mother Jane plus the twin boys Edwin and Edward. Orrin Shepard was a farmer and it's likely that Edwin and his twin brother Edward worked a little on the farm.
Although several small hat shops were located in town, larger hat factories were in the neighboring towns of Bethel and Danbury. Edwin's mother Jane was a milliner and likely worked at a small hat shop in town or one of the larger factories in Bethel or Danbury.
Chapter 1 - The Early Years

Chapter 2 - Life in the Civil War

Chapter 3 - Post War and a Growing Family


Appendix A : Places Edwin Lived


Tweet